A return to 1900m saw Billy Britain race away to a comprehensive win in the $60,000 Open Benchmark 61 race over 1900m on Sunday.
Settled at the rear as is his customary style, the One Cool Cat seven-year-old started to gather momentum from the 800m. Once he was in full flight, there was no stopping the $16 favourite.
The Stephen Gray-trained galloper careered away under Alan Munro towards a most impressive four-and-a-half length win from Mongolian Chief (Glen Boss) with Golden Thunder (Chan Wei Sheng) third another three parts of a length away. The winning time was 1min 58.29secs for the 1900m on the Polytrack.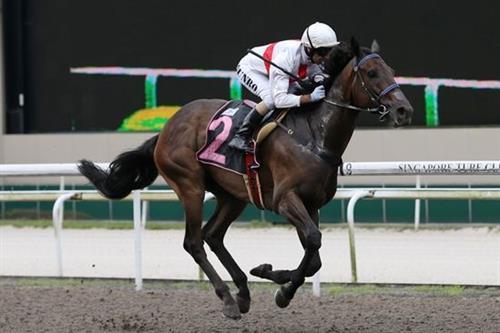 Billy Britain (Alan Munro) bounces back to winning form on Sunday.
Gray was certainly pleased with such a resounding win from the St George Stable-owned galloper, but his muted celebrations betrayed some mixed feelings.
Like all those who saw the race, the Kiwi handler watched in horror when Mr Clooney broke down at the 800m, causing a bit of a backwash as he was pulled out of the race by Vlad Duric, with fortunately no further casualties. Only Murdoch lost a few lengths during the incident, while Apollo (Nooresh Juglall) also had to take evasive action, but Billy Britain went through unimpeded towards his stroll to the winning post.
"He probably won more easily than he would have if two of the better horses were not put out of the race," said Gray.
"One (Mr Clooney) broke down and the other one (Murdoch) got taken out of the race, but my horse would have been hard to beat anyway.
"He was back to Class 4 and over 1900m. It was a good race for him, he loves that sort of race, that is his limit – and he goes good for Alan.
"He was actually meant to go to Malaysia. He didn't have Strangles but he failed the test and couldn't go, and he's now won another $50,000 here, which has been a blessing in the end.
"He's been a good handy horse for Paul Hickman."
Munro, who was at his third win from six rides aboard Billy Britain, said he just pushed the right buttons at the right time.
"He showed nothing and at the 800m, he suddenly grew a leg," said the English rider.
"At the 400m, he kicked again. It was like he had a full tank of petrol left."
Billy Britain has now taken his record to six wins and 14 placings from 45 starts for stakes money in excess of $300,000 for the St George No 2 Stable.
Mr Clooney's unfortunate demise was not without consequences for his jockey. As Duric parted company with the stricken horse, he landed awkwardly on his left ankle, and was later stood down from his remaining rides, including Charger in the Singapore Silver Horseshoe.
"He tried so hard to keep me up as long as he could, but I had to jump off in the end," said a sullen Duric.
"I rolled my ankle, but I'm okay. I will just have to ice it."
Michael Lee
30/04/2017
via Singapore Turf Club